Go Back to:
Home > Mailing & Paper Handling Equipment Catalog > Full-Color Digital Mailing Press Systems >
---
Used Okidata ES3640e Digital Color Press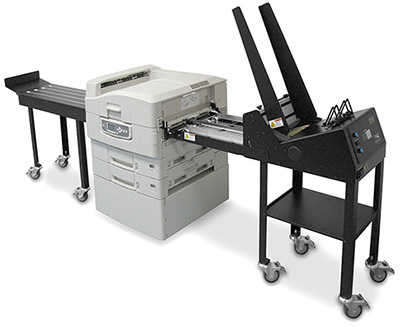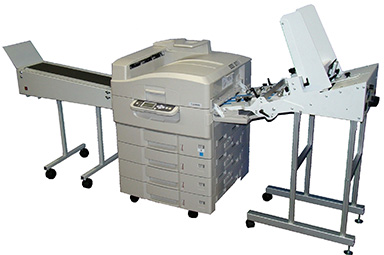 A digital press for spectacular short-run, on-demand print jobs.
Your customers frequently ask you to print short-run quantities with variable data on a wide range of formats—including envelopes—in very, very specific colors. You need a reliable asset on the shop floor to handle that.
The new OKI ES3640e digital color press from OKI Printing Solutions is the answer for spectacular color and great short-run performance. It features:
High-capacity HD Color production printing
Embedded EFI® color technology for consistency and accuracy
Media flexibility and cost-efficiency
The ES3640e: the perfect combination of brawn and finesse.
OKI ES3640e Highlights:
Embedded EFI® Fiery® System 8e Controller with SmartRIP® technology for fast, automated color workflow
Single Pass Color™ digital technology—straight-through print path handles up to 300 gsm, tabloid-extra sheets (12" x 18"), and banners up to 4' long
High-productivity print speed—up to 36 ppm in Color and 40 ppm Monochrome1
High Definition (HD) Color printing technology for increased color depth and richer hues—even on ordinary paper
True 1200 x 1200 dpi print resolution for clear, sharp text and graphics
Designed for short-run production: High-Capacity Lift holds up to 4,000 sheetsof 20 lb. bond paper
1 Published performance results based on laboratory testing. Individual results may vary.
2 Available in the U.S. only.
High-capacity color printing
The OKI ES3640e is a color-matching digital printer from OKI Printing Solutions—with a twist: it's also a short-run production press that handles tabloid-extra (12" x 18") sheets, a wide range of specialty and custom media, and many types of envelopes, like a dream. While that means the ES3640e will help you cut on-demand jobs from hours to minutes, you still have to meet your customers' demands for vibrant and accurate color output. The ES3640e is the perfect solution for satisfying the needs of color-centric clientele.
EFI® technology for consistency and accuracy
The ES3640e controller is an EFI® Fiery® System 5. Along with the EFI Command WorkStation™ utility, it provides print control and job management functionality to optimize document workflow and ensure consistently exceptional results. With EFI technology, you can manage or preview print jobs in the queue, balance the workflow of networked devices, manage color profiles, and save templates on the 40 GB hard disk drive for faster processing and re-printing of jobs. The printer delivers consistent professional-quality color through OKI's HD Color printing technology, automatically calibrating colors, making color corrections on the fly, and supporting EFI Spot-On®, PANTONE®, SWOP®, Japan Color, Euroscale and custom ink simulations. That, and up to 1200 x 1200 dpi resolution, enables the ES3640e to deliver fine details and stunning color depth, whether on glossy stock or even ordinary paper.
Media flexibility and cost-efficiency, too
The ES3640e Series is the ideal solution for producing a wide range of documents on a variety of paper weights and sizes. Single Pass Color™ technology and the straight-through paper path allow for faster color and monochrome print speeds, minimal paper jams, and smooth handling. Features like Auto Media Detect automatically adjust the printer to your required media type, and Auto Color Balance ensures that output remains consistent from start to finish. And, with the cost of a black & white page on the ES3640e lower than typical office equipment, you can also use it for all of kinds of business documents, like annual reports, complete with variable data customization and full-color covers—on cover stock.
The answer to your shortrun color printing needs
The ES3640e from OKI Printing solutions: high capacity and high quality—the right Digital Press for your demanding, color-sensitive short-run printing needs.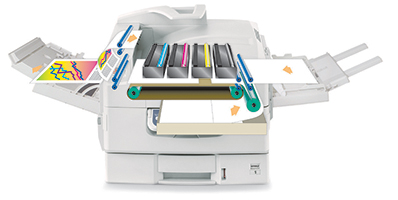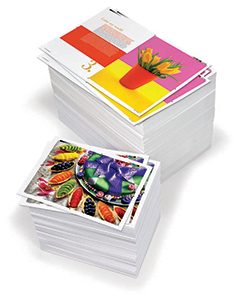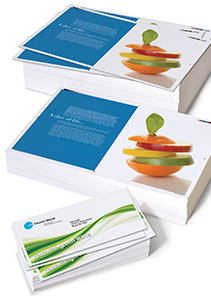 ---
Specifications
Performance
Print Speed1
Letter/A4 – up to 36 ppm Color, 40 ppm Mono; Tabloid/A3 – up to 19 ppm Color, 21 ppm Mono
Time to 1st Page1
10.5 sec. Color, 9 sec. Mono
Warm-up Time
110 sec. or less from Power On
Processor
1 GHz Intel® Celeron® M; embedded EFI® Fiery® System 5 Controller
Monthly Duty Cycle
Average: 5,000–15,000 pages; Max: 150,000 pages
Print Quality
Resolution
HD Color Technology: 1200 x 1200 dpi
Color Matching
EFI® Fiery® ColorWise™ Pro Tools; EFI ICC Color Profiles; Color calibration with optional EFI color profiling kit; PANTONE® calibrated
Typefaces
Printer Fonts
86 scalable PCL® fonts; 10 TrueType® fonts; 136 Adobe® PostScript® Type 1 fonts; 1 Bitmap font; OCR A/B; USPS barcode
Compatibility
Printer Languages
PCL® 5c, PCL XL (Color), Adobe PostScript 3™ with PDF Direct Print (v1.7)
Connectivity
Hi-Speed USB 2.0 and 10 Base-T/100 Base-TX/1000 Base-T Ethernet with internal Web Server
Operating Systems
Windows® 7, Vista® (32-/64-bit); XP Professional (32-/64-bit), XP Home, XP Server 2003 x64 (SP1); Server 2003 Standard/
Enterprise/Datacenter Editions; 2000 Professional/2000 Server/2000 Advanced Server (all SP4 or later);
Mac® OS X PowerPC 10.3.9–10.5, OS X Intel 10.4.4–10.5
Network Protocols
TCP/IP; NetWare®; Ethertalk
Utilities
Included with Printer
Swatch Utility; EFI Command Workstation™, EFI Job Monitor, EFI Hot Folders™, EFI Spot-On™; PDF Print Direct
Memory
RAM (Standard and Max)
1,024 MB
Hard Disk Drive
40 GB Standard
Media Handling
Paper Capacity Tray 1
530 sheets
High-Capacity Lift
4,000 sheets/envelopes
Paper Sizes
Tabloid extra (12" x 18"), tabloid (11" x 17"), legal, letter, executive, 3" x 5" index cards, 4" x 6" and 5" x 7" photo paper,
A3, A4, A5, A6, B5, C5, DL, Com 10, Monarch envelopes, and banners (up to 12.9" x 47.24")
Paper Weight
Trays 1 thru 5 – 17 lb. bond–80 lb. cover (64–216 gsm); Multi-purpose tray – 17 lb. bond–120 lb. cover (64–307 gsm);
Duplex – 20 lb. bond–65 lb. cover (75–188 gsm) for letter and tabloid sheets
Duplex (2-sided) Printing
Optional
Paper Feeding
Auto Media Detect, Auto Paper Tray Select, Paper Empty Sensor, Paper Low Sensor
Paper Output
500 sheets, face down; 200 sheets, face up
Environmental
Size (HxWxD)
Printer and Delivery Conveyor Belt: 92.0" x 24.4" x 18.2" (233 cm x 62 cm x 46.2 cm)
Weight
Printer: 152 lb. (69.0 kg) with consumables
Temperature/Humidity
Operating: 50°F to 89.6°F (10°C to 32°C), 20% to 80% RH; Storage: -4°F to 113°F (-20°C to 45°C), 10% to 90% RH
Power Consumption
Operating – Typical 780W, Peak <1500W; Standby 200W (average); Power Save 33W
Noise Level
Operating – 54dB(A) or less; Standby: 42dB(A) or less; Power Save: 28dB(A) (background level)
Warranty
Limited Warranty
Printer and Conveyor Belt: 2-Year On-Site2; 5-Year Digital LED Printheads
1 Published performance results based on laboratory testing. Individual results may vary.
2 Available in the U.S. only.
3 Letter/A4 at 5% coverage. Ships with 7,500-page starter toner cartridges.
4 Based on 500 pages/job.
Addrex - Addresser Sales Company